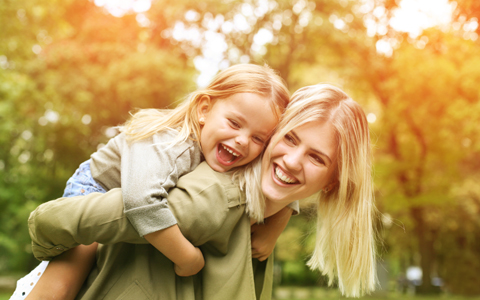 Here at Loveland Pediatric, our first goal is to prevent major dental challenges using every method we can, including:
Cleanings and checkups.
Dental education.
Building trust with patients and parents.
Keeping children comfortable while they're here.
Making a fun, kid-friendly environment.
Encouraging healthy dental habits.
You and your children will be happier if they don't get cavities or need fillings, root canals, or crowns. Prevention can save you time and money. That's why we use the following ways of preventing tooth decay and other problems.
Complimentary Infant Exam (0–23 months)
We can give a free dental examination to your child who is under two years old. This can help you start your son or daughter on the healthiest path and build your own expertise in what your child needs.
We'll tell you everything you need to know about what to expect as your child grows up, such as developmental milestones he or she will reach. This can be especially helpful if this is your first baby.
Dental Checkups
Bringing your children to scheduled dental exams will get them used to the routine of dental health, which can keep their teeth safe and beautiful for life.
If you bring them in about twice a year, that's usually enough for us to make sure their teeth are growing right and that no major problems are going untreated. It also gives us time to make a treatment plan if there is a dental need that has to be addressed.
During exams, we focus on ways to maintain or improve each child's oral hygiene. Imagine your son or daughter having cleaner teeth! And we find out what each child has been eating and what foods and habits could be changed in order to keep those teeth white.
Fluoride
At the end of a checkup, we recommend a fluoride treatment. It's a very simple, efficient way to add another protective layer against tooth decay. We use a wipe-on fluoride that tastes yummy and the child can eat or drink right away!
Low-Radiation X-Rays
Small children are more vulnerable to the effects of radiation, but we need to take x-rays to plan the most effective treatments we can.
That's why we use low-radiation digital x-rays: They emit only about 10% of the radiation of traditional x-rays. Plus, we only take x-rays when it's necessary to make treatment decisions and track your child's oral health.
Sealants
Sealants help prevent cavities in children's molars. They make a thin coating over all the grooves in the back teeth. They're especially useful when children get their permanent molars in at around ages six and twelve. We use a safe, kid-friendly material in our sealants.
Sports Medicine Dentistry
Do you have a child who plays a sport? Or a child who is just very active, like a skateboarder? A mouth guard can prevent damaged teeth and panicked trips to the dentist or emergency room — as well as being taken off a team.
We create customized mouth guards that exactly fit a child's unique teeth and gums. That makes them much more comfortable and protective than one you could buy at a store. Our mouth guards are made from a safe and durable material that is easy to clean every night.
Call Loveland Pediatric Dentistry for Preventive Dentistry
We're committed to making sure your child is happy to come to the dentist. We create a fun and calming atmosphere at Loveland Pediatric Dentistry with a caring staff, toys, kid-friendly terms, and much more.
This is all so that your children will be motivated to come back again and again for preventive care, keeping their teeth and gums safer and healthier for life. Call today, so we can start taking care of your son or daughter!